A Wife For The Blacksmith ~ Viola Grey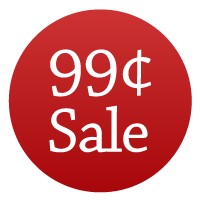 Gerald, the silent, grouchy Blacksmith, never imagined he would have a chance to win a wife. But, when his secret obsession is put on the auction block in the middle of the village market, he knows he will pay any cost to have her… He has been watching the lovely Grace for years, as she suffered under the vicious hand of her good-for-nothing husband. Although it nearly killed him, Gerald held himself back, waiting for his chance. He might be more brawn and muscle than brains, but now that Grace is his, Gerald intends to show her just how a real man should treat his woman. Preferably by filling her all night long, over and over again… until she has no doubt she is the queen of his heart.
ALWAYS CHECK THE PRICE BEFORE YOU PURCHASE
NEVER MISS A DEAL – JUST ADD SPICE!