Her Cowboy ~ Lauren Milson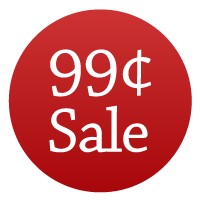 There's a curvy, gorgeous young blonde on my doorstep, and she's the most forbidden woman on this green earth.
Rose is pure, hot, forbidden temptation in a shirt that's too tight and shorts that are too short.
Her old man was my best friend, so of course I open my home to her.
But now I have a problem on my hands.
From the moment she showed up, I've been obsessed. She's in my every waking thought. In all my sinful dreams. Madness surges through me when I see other men look at her.
And what's worse? She's daring me. Tempting me. Flirting. Her lips are begging me to claim her. Her words are telling me just how inexperienced she is.
So if my little desert Rose wants to be a real cowgirl, then I'll teach her how to ride.
Hot, insta-love fun!
ALWAYS CHECK THE PRICE BEFORE YOU PURCHASE
NEVER MISS A DEAL – JUST ADD SPICE!