Erotic Humor Volume 1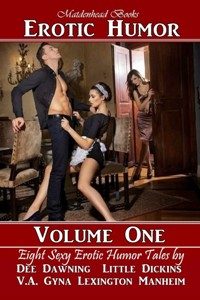 Eight sexy, humorous stories will make you smile as you squirm.
STORIES:
100 WOMEN by Lexington Manheim
BANANAZ by Dee Dawning
Joel is a lucky man. One afternoon after an exhausting day of work, he takes a nap on the couch. But his rest is interrupted by giggling and frivolity in the kitchen.
LIPSTICK LESBOS by V.A. Gyna
Shopping for summer wardrobes, California girls, Chloe and Rachel, run into a butch store clerk who's rude to Rachel and makes a pass at Chloe
BIRTHDAY GIRL by Little Dickins
Tammy's mother and Johnny's father, leave Johnny to watch over Tammy while they attend her class reunion. After Tammy accidentally on purpose walks in on Johnny at an awkward moment, one thing leads to another and another, and so forth.
SHOW OFF by Lexington Manheim
CUNNYLICKING 101 – Lydia by V.A. Gyna
ROADSTOP ROMANCE by D.E. DAUM
DUMPED! by Dee Dawning
.
ALWAYS CHECK THE PRICE BEFORE YOU PURCHASE
NEVER MISS A DEAL – JUST ADD SPICE!