Blood Vow ~ Mina Carter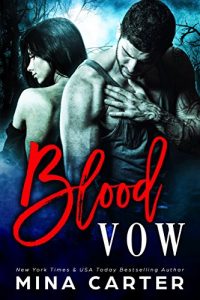 They killed her sister. Now she'll make them pay…
Her sister slaughtered by rogue vampires, Maria wants blood. Rogue blood. Lots of it. In vampire society though, even halfbreeds like Maria are cosseted and protected . She must fool her family into thinking she's the perfect Kyn lady, fight like the demons her ancestors were, and somehow get rid of the annoying but sexy Kyn warrior who just won't leave her alone.
He's the king. And he's done taking orders.
Furious at the Elder Council's demand that he find a wife, Marak takes to the streets to vent his rage on the rogue who plague the streets. He doesn't expect to find a sexy vampire hunter who has no idea who he is nor his passionate and all-consuming reaction to her. Human, she can't be his. Without his help, she won't survive the streets. He'll train her, get her ready to hunt… and do his best to keep his hands to himself.
But when a rogue attack almost ends Maria's life, Marak is forced to give her his bite. Bringing her over into his world, he discovers she's been keeping secrets just like he has… Can they see past the lies and betrayal to what really matters, or is their happily ever after, and the fate of the Royal line, doomed with their love?
ALWAYS CHECK THE PRICE BEFORE YOU PURCHASE
NEVER MISS A DEAL – JUST ADD SPICE!