Bump in the Night ~ Lauren Milson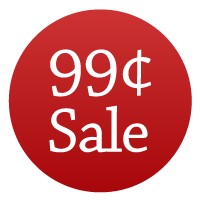 Twenty years old. Overprotected. Forbidden from going out on my favorite night of the year.
Enter – my dad's two big, hot cop friends. John and Elliot. The two men I've always wanted, ached for, craved. They'll jailbreak me. They'll protect me. They'll keep me safe from the things that go bump in the night.
Elliot is tricky – frustrating, mysterious, a white-hot tease who makes me ache and whimper.
And John is all treat – yummy and delicious and sweet enough to give you a sugar high.
I know John and Elliot will keep me safe in their arms if anything happens to me.
But I never expected this.
One brush with danger and they go into crazy-obsessed mode. The tell me I'm not allowed out of their sight.
And now? Well…once they tell me I belong to them, that's when the danger…and the fun…really begins.
ALWAYS CHECK THE PRICE BEFORE YOU PURCHASE
NEVER MISS A DEAL – JUST ADD SPICE!