Bump in the Night ~ Lauren Milson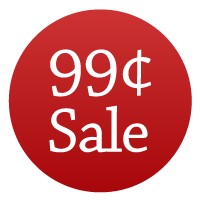 I know plenty of hot cops, but none of them hold a candle to my dad's friends, John and Elliot.
Elliot is tricky – frustrating, mysterious, a white-hot tease who makes me ache and whimper.
And John is all treat – yummy and delicious and sweet enough to give you a sugar high.
On Halloween night, my dad sends them to the house to check in on me. After what happened to my mom, he isn't taking any chances.
But once they confirm I'm safe at home, I decide I'm not spending another night locked up by myself.
I know John and Elliot will keep me safe in their arms if anything happens to me.
But I never expected this.
One brush with danger and they tell me I'm theirs.
And now? Well…once they tell me I belong to them, that's when the danger…and the fun…really begins.
ALWAYS CHECK THE PRICE BEFORE YOU PURCHASE
NEVER MISS A DEAL – JUST ADD SPICE!