Forever with His Quirky Girl ~ Sara Hazel and Simone Black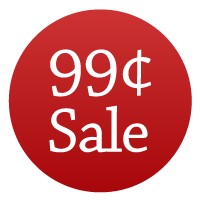 Landon:
I never imagined I'd find myself in a quaint little town like Starlight Creek, let alone at an auction ready to buy a night with a virgin. But one glance at the fiery-haired beauty on the stage, and I'm bidding like a man possessed. The moment our eyes lock, my world shifts.
As I breathe in her intoxicating scent, I realize that one night with Willow will never be enough.
Willow:
I never thought I'd be auctioning off my V-Card to the highest bidder. Then Landon walks into my life – the brooding billionaire who's as skeptical of ghosts as he is irresistibly handsome.
He may have bought one night with me, but I can't help but want more. As his touch ignites a fire within me, I'm reeling. Can I trust this man who's stormed into my life like a whirlwind, and will he support my dreams?
ALWAYS CHECK THE PRICE BEFORE YOU PURCHASE
NEVER MISS A DEAL – JUST ADD SPICE!