Sexcapades ~ La Marchesa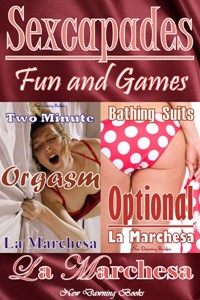 Two Minute Orgasm
Answering a bizarre newspaper ad at a research clinic, Janine Taylor's life is turned topsy-turvy when she agrees to be a test subject for a study on extending the length of orgasms for women. Caught in a debauched world of sexual nirvana, Janine, soon becomes their star pupil. Can she go back to her old life? Given the choice would she even want to.
Bathing Suits Optional
When Steven and Lisa attend a big pool party presented for Hollywood's most beautiful people, they learn, to their surprise that bathing suits are optional and that's not all. As they enter the pool enclosure from the conservatory, they discover a wanton orgy is taking place. Steven wants to leave, but Lisa wants to stay and apparently participate. Heating up fast, Steven wants to participate too, as long as Lisa doesn't. What follows is a sexy hilarious romp.
NEVER MISS A DEAL – JUST ADD SPICE!