Seduced by Daddy's Best Friend ~ Vivian Gunn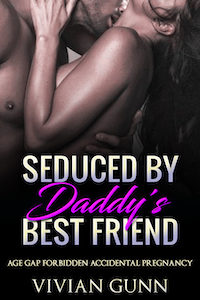 There's something about the forbidden that makes me want it more…
So much more.
I've always been daddy's princess. Always been on the straight and narrow, never given him a reason to be ashamed of me.
Until Ajax.
My dad's best friend.
The tall, dark, powerful billionaire. Eyes like embers. A body carved by the gods.
He's been my fantasy for years. The man I want to deflower me.
But I'm no fool. I know Ajax is off limits. My dad would disown me if he discovers my lustful thoughts.
But I can't fight this feeling, especially when a gig lands me under his roof for two months.
Two months of pure, irresistible temptation.
I'm so close to giving in I can almost taste it.
But I shouldn't, right?
ALWAYS CHECK THE PRICE BEFORE YOU PURCHASE
NEVER MISS A DEAL – JUST ADD SPICE!