Selling Out ~ Ellie Sands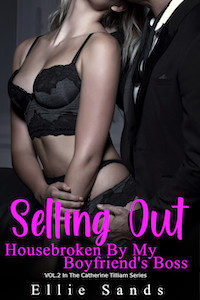 I've been used by my hunky bosses behind my boyfriend's back, and now I'm considering selling myself into something I don't know if I can handle.
Ever since I got to my boss' huge mansion for what I thought would be a work weekend, I've been seduced at every turn by his wicked charms and huge, throbbing… biceps. Does he even do anything besides hitting the gym? It hasn't helped that his two friends are just as hot. And in the end; Not even the thought of my sweet boyfriend has managed to stop me from surrendering.
Now I've been given an offer: Become a permanent plaything for my company's executive elite. If I say yes, my life will never be the same. I will earn an insane amount of money, and I will be forced to live a lie. A steamy, white-hot lie.
ALWAYS CHECK THE PRICE BEFORE YOU PURCHASE
NEVER MISS A DEAL – JUST ADD SPICE!