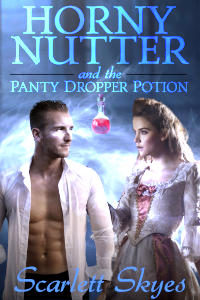 A Magical Parody that shows what Witches and Wizards really get up to at University!
All his life Horny Nutter has experienced magical phenomena he never dared tell anybody about lest they think he was crazy. However, when reading through the responses to his university applications, he receives one from an institution he not only never applied to, he's never even heard of!
The existence of Diggler's School of Witchcraft and Wizardry explains so much that had happened in Horn's life, but raises so many more questions. After bumping into Emma, an old acquaintance from school, at the assignment ceremony, Horny is thrust into a world of magically-assisted depravity that quickly escalates when the very first concoction he learns in Professor Gape's class is a love potion!
Can a few drops of this wondrous elixir turn Emma into a submissive plaything? There's only one way to find out…
ALWAYS CHECK THE PRICE BEFORE YOU PURCHASE
NEVER MISS A DEAL – JUST ADD SPICE!