Starting Over ~ D.J. Heart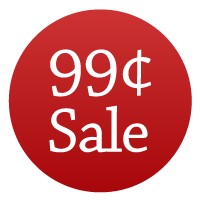 A desperate omega, two dominant alphas, and a decision that will change everything…
Set up to take the fall for a crime he didn't commit, Peter faces ten years behind bars at Lockland Omega Penitentiary.
It's hell, so he signs up for the Delinquent Omega Matching Program.
It assigns him to Tex Wilson and Carver Wilde. The two alphas have been searching for a mate for years, and when Peter reads their profiles, he understands why. They're the kind of alphas that send sane omegas running for the hills. Dominant, aggressive, and kinky in ways that Peter didn't know was possible.
The idea of belonging to them scares the living daylights out of him.
(This 110k word MMM paranormal romance features two dominant alpha werewolves and the helpless omega they claim for their own. The story includes BDSM, dubious consent and extreme size-difference. It has a HEA and no cliffhanger.)
ALWAYS CHECK THE PRICE BEFORE YOU PURCHASE
NEVER MISS A DEAL – JUST ADD SPICE!