Soulmates of Seasons 1. Winter's Dragons. Melting Ice ~ Eva Brandt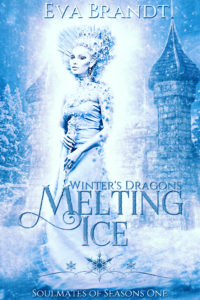 A firedrake, a wyvern and a ryū walked into a tavern…
It sounds like the beginning of a bad joke, and honestly, it really is. I don't find it all that amusing, considering that it's not a tavern they've stumbled into, but my territory.
Apparently, it's become my duty to settle a dispute between three Alpha males who have more fire power than sense. Sometimes it is not at all enjoyable to be the avatar of Winter.
ALWAYS CHECK THE PRICE BEFORE YOU PURCHASE
NEVER MISS A DEAL – JUST ADD SPICE!