Beyond Justice ~ Bianca Sommerland & Tibby Armstrong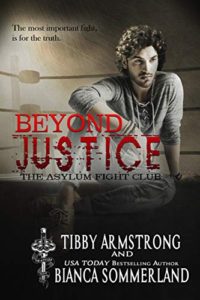 Raised and trained by The Asylum Fight Club's most infamous owner, Reed Dane is almost untouchable. Might sound dope, but there are disadvantages to his 'privileged' status. His guardian's reputation makes a serious relationship impossible—turns out the club's members are addicted to breathing—and the one man Reed truly wants sees him only as a stray his former lover brought home.
Curtis Smith is a lot of things—MMA fighter, club owner…son of a drug lord. Reed is forbidden, to him most of all, but resisting what they both want becomes impossible with the sub challenging him at every turn. And with his past threatening everything The Asylum has been built to protect, Curtis can't afford to be addicted to Reed's brand of candy coated sin.
He can't deny himself one taste before his stolen time runs out. Because when it does, all that will be left behind for Reed is a memory…
ALWAYS CHECK THE PRICE BEFORE YOU PURCHASE
NEVER MISS A DEAL – JUST ADD SPICE!